Passionate Tutoring, Professional Resources and a Personal Touch.
Your
Education,

Res

haped.
What makes
our tutoring

different?
Small groups of students taught by experienced VCE tutors.

Free custom resources and 24/7 personal support.

Intuitive teaching and focused exam and SAC preparation.
2021 Top Contour Results
99.95 – Ramodh (MHS Dux) | 99.90 – Jeffrey (MHS) | 99.90 – Makram (Illim Dux)
We empower VCE students and their studies by providing highly engaging small group VCE tutoring designed to prepare them for school SACs and the final VCE exams. Our sessions are presented by experienced VCE tutors that can teach the VCE study design in a simple and intuitive yet engaging way.
Hundreds of students have joined our VCE tutoring services since our founding. Our growth is a testament to our dedication to providing ALL our students and parents with a high-quality VCE tutoring experience (from 24/7 personal support to on-demand resources) and our commitment to helping them achieve their VCE goals.
We specialise in tutoring VCE Mathematical Methods, VCE Chemistry, VCE Physics, VCE Psychology, VCE Economics, VCE Specialist Mathematics and UCAT.
Why not fill out the short 1-minute form below and try one of our sessions for free and experience the difference for yourself! No fees or obligation required.
Our Vision
Years ago, when we were studying the VCE, we found there was a gap in the tutoring industry.
Searching for tutors, you've probably come across three distinct categories:
Structured classes, but large 25+ student groups.
One-on-one, but with minimal structure and high fees.
Small groups, but with limited resources and support.
While all of these options work in their own right, we realised that there's an opportunity for a better combination.
What if you could get the best of all three categories?
Structured classes with a planned curriculum.
Personalised one-on-one help with zero extra fees.
Small groups with extensive resources and support.
Seems too good to be true? Well, that's why we exist.
We set out with a vision to reshape education, starting with tutoring. And it's been working, so far – but we don't want to be the ones to tell you that! We've been fortunate enough to have positive reviews from hundreds of happy students and parents.
Why Choose Us?
We've built Contour Education to be a modern, improved take on tutoring and coaching.
We don't want you rote memorising hundreds of questions and equations. Rather, we focus on developing the skills and conceptual understanding to answer any question, and derive any equation.
No more watching 20-50 person lectures in silence. We aim to create an engaging atmosphere, where you can comfortably ask questions and share ideas in small groups of 4 to 12 students.
Finally, there's an alternative to paying premium prices for one-on-one tutoring or struggling to get individual attention with large group tutors.
When you join Contour, you pay significantly less, get more hours of tutoring, and access to exclusive resources and personalised support.
Our goal is to provide you the best possible tutoring experience.
We dedicate thousands of hours to tutoring and resource creation and literally hundreds of thousands of dollars hiring top class tutors, offices and online services. Yes, we understand that everyone has different requirements, but this is our promise to you – we strive to fulfil yours!
Now, you might have thought to yourself by now, "I doubt this is all true". But rather than staying in disbelief, we ask you to sign-up for a trial lesson and find out for yourself!
Of course, there's a chance our services won't meet your needs, but the only way you'll find out is by trying (for free!). As the saying goes, you miss 100% of the shots you don't take :)
What Do Our Students Think?
Our team at Contour Education is huge and we're always striving to improve our services, every single day. No, we're not just a team of tutors – we are a team of students. Our students drive our vision and our VCE tutoring through their invaluable feedback, peer-review sessions, and suggestions for improvements we can make.
We pride ourselves in how we use our ears, not our mouths, to deliver the best tutoring service possible. We are constantly listening to what our students want and we aim to provide exactly that – that's our promise to you!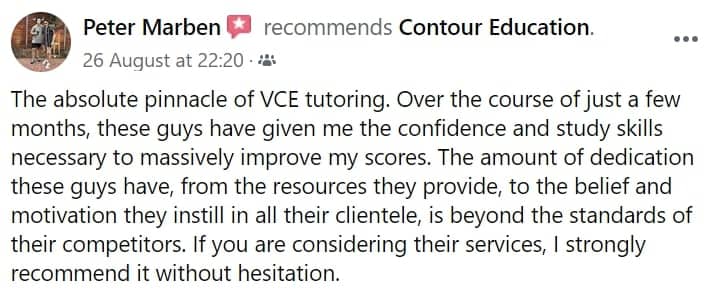 We try our best to make our VCE tutoring super accessible and welcoming for students! Whether that be in spacious conference rooms and group learning venues, or professional online environments.
Glen Waverley
Our Glen Waverley Office is conveniently located next to Syndal Station, keeping it highly accessible to students from the Eastern Suburbs. The room is designed to foster engagement with the tutor and collaboration with peers, providing students a highly interactive learning experience.
The City
Our City Office is only a 5-minute walk from Southern Cross Station, making it a convenient location for students to join our after-school sessions. The room's conference table arrangement offers a friendly and inviting vibe, where students can collaborate across the table and have the tutor come behind them to help with their questions.
Springvale
Located on Springvale Road, our office is only a 7-minute walk from Springvale Station being highly accessible for students in the South Eastern Suburbs. Conveniently located in the heart of Springvale, students easily commute from school and also have access to places to eat, drink and hang out with their friends before and after class.
Virtual Classrooms via Zoom
As per our response to the COVID-19 pandemic, we've carefully designed our virtual classes to emulate a real-world physical classroom. Here are some excerpts from our VCE Physics Tutoring - join us from anywhere!